About
> Exhibitions/Studio News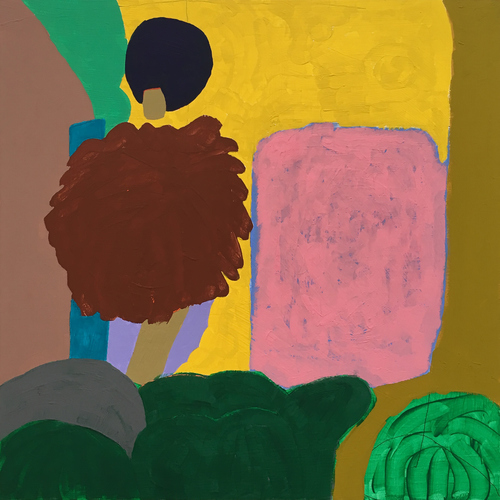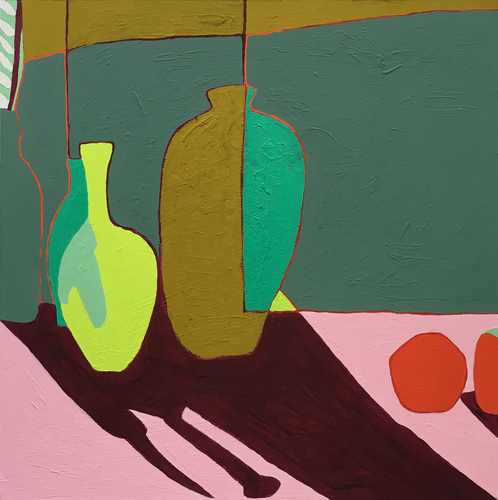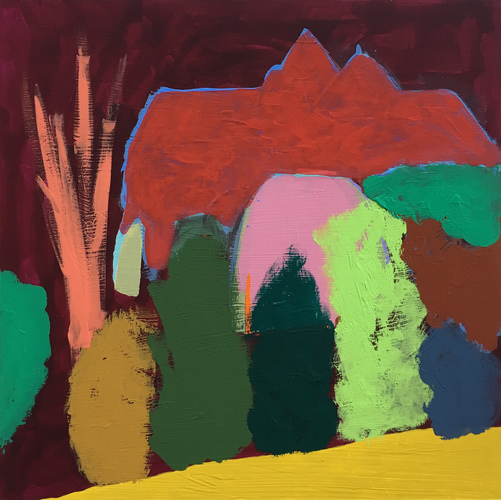 Paintings at exhibitions . . .
Ely Center of Contemporary Art; The Painting Center; Atlantic Gallery
April 2019
—A recap of my winter . . . I had paintings in three terrific shows—"Ear to the Ground," curated by the stellar Julie Torres at the Ely Center of Contemporary Art in New Haven; and, in NYC, at The Painting Center's 25th Anniversary Invitational Exhibition, and the Atlantic Gallery's juried show, "Escape/ism." Instead of heading south to dodge the winter, I chose to go north to the central highlands of Maine, to the town of Monson, on the shore of frozen Lake Hebron, where I spent the month of February as an artist-in-residence at
Monson Arts.
It was a very cold, very snowy, very productive, very wonderful month. I completed a set of eight paintings, three of which were curated into an invitational exhibition, "A Web of Artists: Friends from Social Networks," at Thomas Deans Fine Art in Atlanta, Georgia.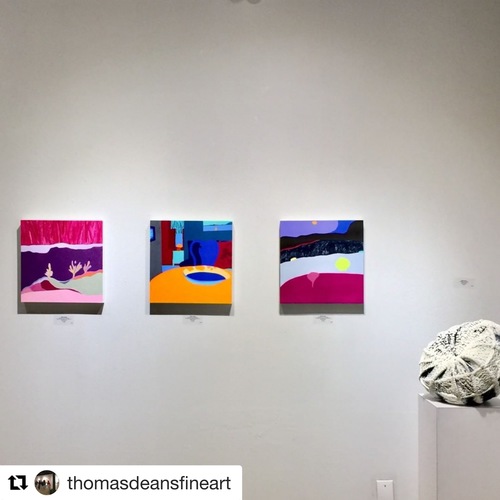 Paintings from Monson, Maine,
at Thomas Deans Fine Art in Atlanta
On New Year's day, in a departure from drawing in accordion-fold albums, I began to make drawings on the inside of collapsed, disassembled packaging—formerly containing such ordinary items as bar soap, chocolate, tissues, crackers, advil, and so on—upcycling something meant to be disposed of, by reëmploying it as the substrate for a drawing. The initial ten drawings in the series were curated into "Inside Out," at Five Points Gallery in Torrington, CT.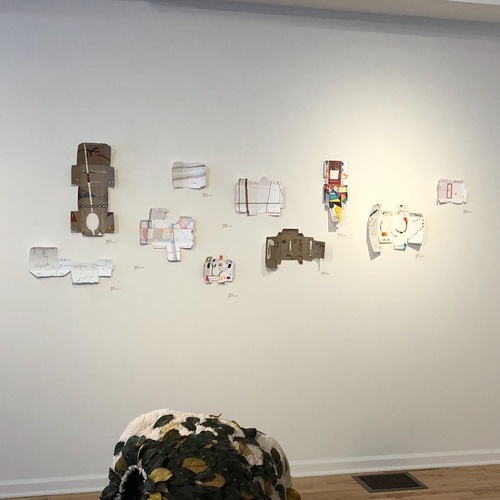 Installation of drawings on upcycled packaging,
Five Points Gallery
Looking ahead, I'm thrilled about two upcoming residencies. I'll begin this summer by spending the month of June living and working in The Barn at the
Edward L. Albee Foundation,
in Montauk, Long Island ... and I'll end the summer with a monthlong residency totally devoted to paint and painting at the
Golden Foundation
in New Berlin, NY. I am grateful for these exceptional opportunities.

###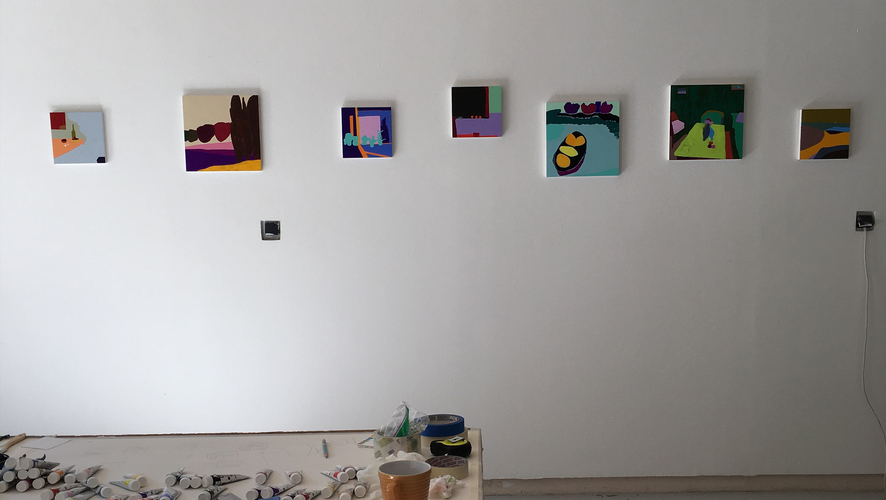 In the studio, Moulin à Nef, Auvillar, France, 2017

October 2018—The past year-and-a-half has been exceptional. I've had residencies in the high plains of Wyoming (Brush Creek Foundation for the Arts); the built environment of Los Angeles (Otis College of Art and Design); a riverside village in southwest France (Moulin à Nef); the Blue Ridge Mountains of north Georgia (Hambidge Center for the Creative Arts and Sciences); and, in Florida, at a former artist colony, founded in 1937, whose buildings are a remarkable example of Mayan-Revival "fantasy" architecture (The Research Studio at Art & History Museums–Maitland).

In January I had a solo exhibition of paintings at Penn State Altoona, and in March and April I exhibited paintings and drawings in back-to-back solo shows at Ground Floor Gallery in Brooklyn's Park Slope; the gallery also represented my work at the Fall and Spring Affordable Art Fairs in NYC. In May, I had a solo exhibition, Painting(s) from Recollection, at The Painting Center in New York, featuring a selection of paintings from my residencies and my Stony Creek studio.
And in June, I showed an installation of 70 feet of line drawings in accordion-fold Japanese albums at the Cigar Factory LIC in Queens, NY. I've been drawing all summer, and now I'm looking forward to showing my work in group exhibitions—in November at Silvermine Arts Center, Ridgefield, CT; in December at an Artist Collective pop-up show at the Westport Arts Center, CT; and in January at The Painting Center's 25th Anniversary Exhibition in NYC.
###